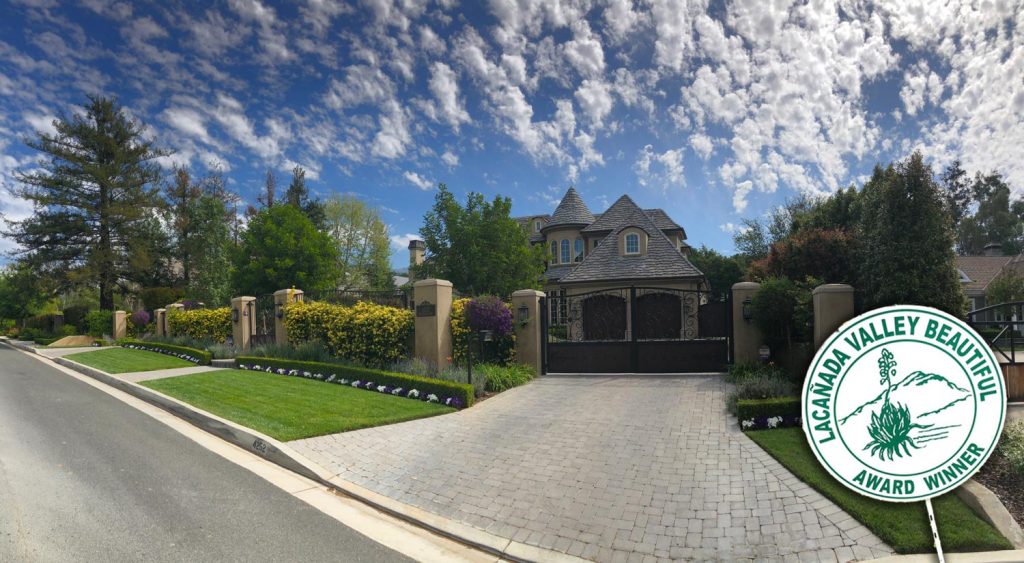 We just won the La Canada Valley Beautiful Award!
Most don't know this about me, but I love landscaping and making sure that my properties are in pristine condition — whether I'm selling one or living in one. I'm embarrassed to admit this, but I'm a "neat freak" — whether at home or at the office.
I've always taken great pride in enhancing "curb appeal". My family and I were blessed to have the opportunity to construct our own La Canada home several years ago from scratch. We completely demolished an old single family ranch style home and constructed a new French Country residence while implementing all the "do"s and "don't"s that I've learned in this business for over two decades now.
Recently, we had 2 unexpected guests show up to our door only to surprise us with something we weren't expecting.  We were designated the "La Canada Valley Beautiful" Award from the members of this wonderful organization. After all the sweat, time, effort and of course cost we put into the construction of our home, it was truly honorable to receive such a distinguished award.  My family and I are extremely humbled by this recent designation.
Over the years, I've created an incredible network of builders, architects, engineers and practically all tradespeople that have something to do with construction, remodeling or just general upkeep — including landscaping. These people have proven to be honest, reasonable and expeditious. We've also had our fair share of people that were dishonorable, ridiculously overpriced, and unreliable. Those have been perished off our list.
This "Rolodex" of trusted sources (which took me years to compile) gets shared the moment someone puts their unconditional trust to working with me or any member of the Arbitrage team!
You'd be amazed on their performance, their quality, their timing and even their prices. Because of the volume of work that gets referred to them, these guys make sure you get the First Class service and product you'd expect the moment you mention that we referred you!  Whether you own an estate or a 1 bedroom condo, these contacts treat you like royalty.  The same source was instrumental in helping us not only construct our home, but to maintain it, beautify it, and ultimately… receive this award.  
Thank you City of La Canada for this recognition and for appreciating us and the relentless efforts we made to beautifying this city!
Sincerely,
The Hairapetian Family