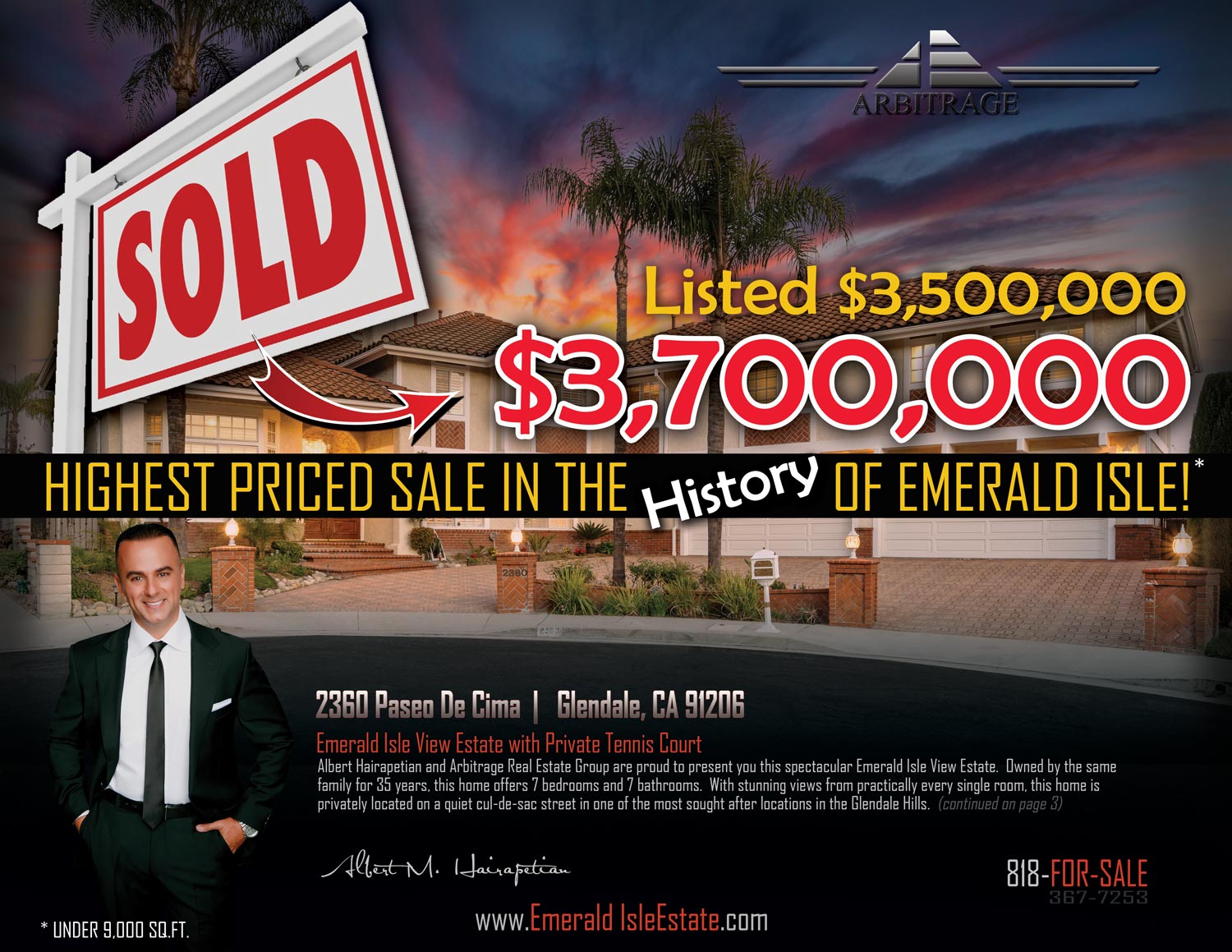 "Albert…How did you sell our home for such a high price?"
Dr. & Mrs. Checca
(Former owners of 2360 Paseo de Cima | Glendale, CA 91206)
WE DID IT AGAIN!!!
Except this time it was the HIGHEST priced ever sold in the HISTORY of Emerald Isle! (under 9,000 square feet).
Best of all, this home NEVER hit the market, and our sellers got $200,000 more than what they were expecting. In fact, they had doubts on even getting $3,500,000…. Guess they forgot who they hired! 😉
Dr. Checa is a retired pulmonologist and worked at Glendale Memorial Hospital. He and Mrs. Checa wanted to downsize and move to Napa and visit their hometown in Panama more frequently.
They interviewed several Realtors when the time came to pull the trigger on the sale of their home. When they called me to tell me that I got the job, I knew I had to put a BIG smile on their face. The task was not easy as there were zero sales to compare their home to. As you can imagine, their property was unique.
We considered several factors and collectively came up with a price of $3,500,000. The marketing we developed at Arbitrage generated multiple offers and we were able to successfully close escrow today at a whopping $3,700,000! Yup… that's not a typo (I checked 5x 🤣)
Best of all, it all happened without the home ever going on the market!
I thank Dr. & Mrs. Checa for putting their unconditional trust in Arbitrage and myself and congratulate them on a historic sale that will tremble the entire 91206 neighborhood… and perhaps the outskirts as well.
It's not the first, it's not the last, but it's ALWAYS a unique result we're blessed with. It's truly magical to see it happen each time over and over and over again!
Thank you for another Record sale!
You could see more pictures at www.EmeraldIsleEstate.com
Albert