The Sellers of 1416 Greenbriar Road Got Exactly What they Deserved!
Glendale sellers get an extra $105,000 and set a NEW RECORD! from Albert Hairapetian.
When Panos and Angie called our office, they were very nervous about selling 1416 Greenbriar Road. They had owned the home for over 40 years, had decades of memories out of this home, and were about to part ways and join their grandchildren in San Diego.
Their house was just under 2,000 square feet with only 3 bedrooms and 2 1/2 baths. We had discussed pricing it aggressively at $1,095,000 with the hopes of selling it AS IS without any headaches.
THE RESULT: A short while later, we found them a buyer that purchased the home for $105,000 more at $1,200,000 — ALL CASH. Best of all, the home was NEVER on the market. Greenbriar sold for over $600/ft. — a record throughout the entire street's history! To top it off, we even had others buyers in our "standby" list that were interested as well.
I thank Panos & Angie for putting their trust in me and the entire Arbitrage team. I wish them farewell and best of luck in their new home in San Diego. I also congratulate and thank our new buyers for their recent purchase and wish them decades of enjoyment as well.
Thanks for helping us with another record sale!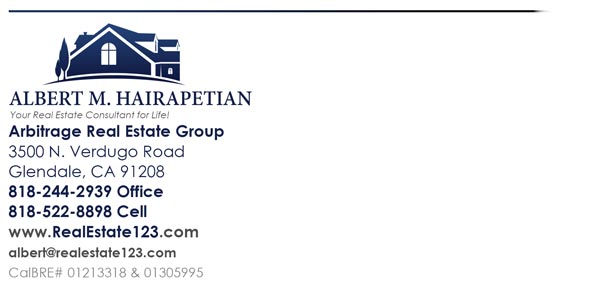 Watch the video we created for 1416 Greenbriar Road…..
Greenbriar Gem in the Glendale Hills from Albert Hairapetian.