Why List With Albert?
Albert Hairapetian specializes in selling homes that other brokers couldn't sell AND offers a "Guaranteed Home Selling System." Rest assured you'll no longer have to worry about getting false information or having your home left unsold.
If you are in the market to sell your home in the Los Angeles area, you'll want to interview the most dynamic Realtors in Glendale, La Canada, Burbank, La Crescenta, Pasadena and surrounding towns! Albert and his team are experts in these local areas. They know what it takes to get a home sold and can guide you every single step of the way.
Albert and his team have been ranked among the TOP 1% for 2 decades. As a licensed real estate broker, an Economics graduate from UCLA, voted #1 Real Estate Agent in Glendale for the Millennium, a Star Power Star and speaker, Albert has been featured by not only the California Association of Realtors, but by the National Association of Realtors as well.
He has also trained and helped thousands of Realtors across the nation excel in all aspects of this business and has been recognized as one of the leaders in the industry. The Arbitrage team has the experience and knowledge to get your home sold at top dollar, no matter what the news may report about the real estate market. In fact, while many homes were being foreclosed during our last down turn, Albert sold over $67,000,000 in volume in just one year — and only 1 of them was a short sale!
If you are thinking about selling your home, Albert and his team of specialists will guide you through the entire process and offer critical tips to consider.
Click here to see what Albert's clients REALLY feel about him and his services!

The Entire Process
Listing Consultation
The first step is our listing consultation. We will first walk through your home together, and I will advise you how to prepare your home for the market. Simply pulling up old carpet or a fresh coat of paint can dramatically increase your profits. When appropriate, I will recommend a professional home stager to even further maximize your profits.
During this initial consultation, I will give you all the information and statistics that you need to gain a clear understanding of the current market in your particular neighborhood and go over a personalized marketing, pricing, and timing strategy to get your home sold quickly and for the best price possible.
Preparing Your Listing
When you list with me, you also get my team of tech-savvy marketing administrators who ensure that my listings get full exposure with Realtors AND with the buyers on and off-line. My clients will tell you how my targeted community videos and social media marketing campaigns stir up tremendous activity for my listings, creating a Seller's Market within a Buyer's Market. Our persistent marketing strategies combined with a strong pricing and staging strategy bring my clients the most value that the market can bear. No single Realtor without a team of specialists can possibly do what we do for you!
Just as you found me on the internet, I get an astounding 25,000 to 35,000 hits, and 4,000 to 5,000 visits PER WEEK at RealEstate123.com. When we sit down together I will explain how I manage to keep this consistency. Immediately after listing your home, I will send out a email broadcast announcing your listing to the 7,500 people who've signed up to receive my exclusive listing updates, plus a separate email broadcast to the local Realtors inviting them to the Realtor Open house and encouraging them to send their Buyers to the public open house that Sunday.
No one buys a home without being sold first on the community. What sets me apart from other agents is that I create a community around each of my listings.
Launching Your Listing
Our listings are found on Google, Realtor.com, RealEstate123.com, CityofGlendale.com, CityofLaCanada.com, AlbertHairapetian.com, Zillow, Facebook, Trulia and all the other sites that they syndicate to, such as Listhub. This ensures you cannot POSSIBLY be missed on an internet search.
My listings bring in an average of 55 new registrations a week (aside from the Mickey Mouse leads), mostly relocation, as my website is easily found in the search engines by relocation buyers searching for a home and a top Realtor to work with.
At Arbitrage, the listing agents get the calls on their own listings, unlike traditional companies where the "floortime" person, who may have not seen your house, gets the call. We train each one of our agents to sell YOUR home when the call comes in — not just any home. Let's face it, they're calling about your home. We host a Realtor Open House for all of the local Realtors the moment we go live on the MLS. We also host a Public Open house (if appropriate) the following Sunday and you can read more about that process here.
Our team then immediately contacts the key Realtors who may have Buyers for your home to spread the word fast and create excitement. We also email them the property brochure as well as the unbranded links to your tour and interactive floorplan so they can forward your property on to their Buyers without being concerned about their Buyers contacting us directly.
Premium Marketing
We have a team of premium photographers and videographers on stand-by to showcase your home. The photographers use wide-angle lenses and spend nearly 3-4 hours on a single photo shot. The videographers are masters of capturing the gorgeous shots of your home using a variety of equipment including drone footage of your home when appropriate. After the videos are professionally editing to bring your home to life. They are meticulous and pride themselves on bringing out the BEST in each of our listings. They make sure to showcase your home in the best possible way, even ensuring outdoor shots with blue skies – even returning to retake that perfect shot in perfect weather! Thereafter, our marketing team spends countless hours on Photoshop in order to put your brochures together.
Here is an example of the premium-quality videos we create for our listings:
Since we prioritize top-tier marketing, we decided to start our very own professional-grade printing company — Art2Press.com. Doing so has benefited our clients immensely as we are in full control of production, timing, and print quality. We know that timing is everything in real estate and have developed the luxury of monitoring and utilizing our own printing services. We also have a few hundred Realtors that utilize our printing services in order to gain the same quality print as we provide our clients.
We also have virtual slide shows and interactive floorplans of your house created, which automatically gets linked to RealEstate123.com. When someone clicks through to your home's page on Trulia, Zillow, Realtor.com etc… they will see the beautiful showcasing of your home with our professional wide-angle lens photography and videos. We've even sold homes sight-unseen from the photos and videos alone!
Your home's listing will be added, along with it's virtual tour, interactive floorplan, downloadable property brochure and still photos, to the instant listings section of our website and every other key real estate website as mentioned before. Your home cannot possibly be missed in an online home search. Our property brochures are professionally written and you will be provided with your own set at your home for potential buyers. Your property brochure is also attached to your listing on our website, like this, so potential buyers can view and print it.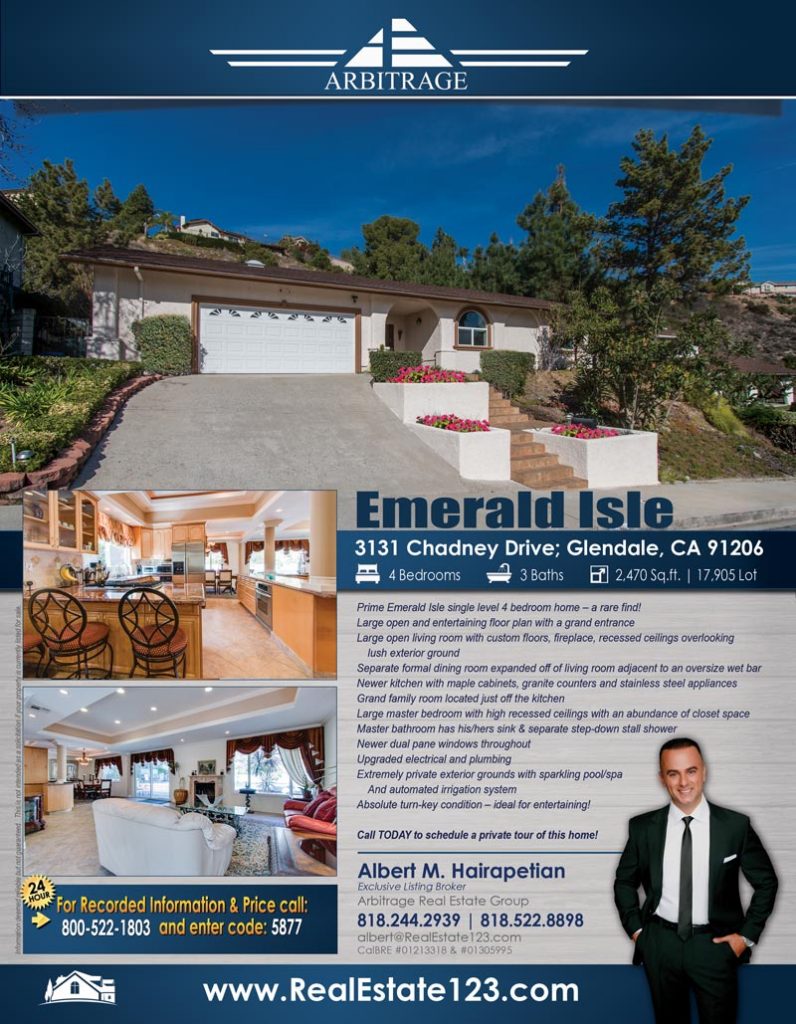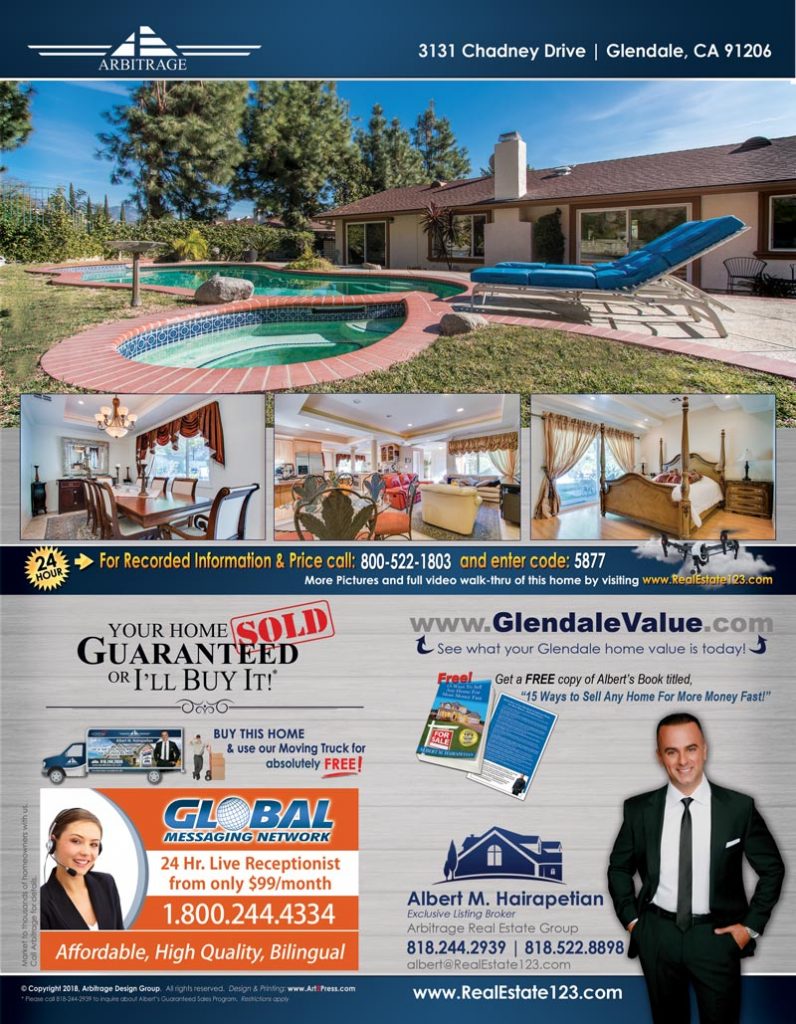 Your home is added to the I-Tech Multiple Listing Service. We will add all our professional photos and any unbranded virtual tours to the listing so that agents can email them to their prospective buyers.
If appropriate (not mandatory), we will also hold an Arbitrage Power Open House and have an incredible targeted marketing campaign to ensure that the qualified buyers come. We have also gained a great deal of publicity for our Arbitrage BBQ Open Houses, where we hold an open house grilling burgers and hot dogs! See how "different" we do things in order to get you the most optimal exposure imaginable.
Albert's Promise
As your advocate, I will be with you every step of the way. In fact, it's not uncommon for my clients to even contact me as late as 11:00 p.m. in the evenings. Basically, if you need me, I'm here for you every single step of the way. I promise to negotiate fully on your behalf and advise you every step of the way. I will help you bullet-poof your transaction to minimize your risk. Best of all, we also have an in-house attorney (my brother, Victor Hairapetian), who overlooks everything legal. To top it off, he has helped me prepare additional seller disclosures to further protect you (that's not typically offered as an additional safeguard by most brokerage firms)!
Our communities are exceptionally high in demand, and I'm still selling homes the first weekend. With interest rates as low as they are and expected to rise, buyers who have been waiting to jump into the market are out there now. Although price conscious, these buyers jumping on homes they see potential value in.
Ask me or any member of the Arbitrage Team ANY question about listing and selling your home or property. Request a FREE consultation on how we would customize a marketing plan for your home in Glendale, La Canada, Burbank, La Cresenta, Tujunga, South Pasadena, San Marino, Arcadia and all surrounding areas.
There's no obligation, and I promise we will help you as soon as possible.
You can either reach me with any of the following contacts.
Office: 818-244-2939
Personal: 818-522-8898
albert(at)realestate123(dotted)com